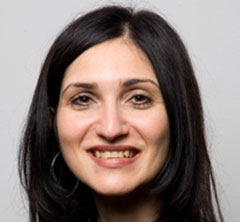 Ms Franca Agresta
Franca Agresta is Melbourne IVF's Clinical Research Manager and has more than 18 years' experience in research, where laboratory and basic science research has evolved into the initiation and coordination of various clinical trials. Franca and her team are actively involved in various research projects, both investigator-initiated trials and in collaboration with pharmaceutical companies. Her ICH-GCP training ensures that clinical research conducted is of high quality and compliant. Her role also involves encouraging and facilitating new research across the various disciplines within the organisation and collaborating with universities and various research institutes.
Franca co-ordinates the Fertility Preservation Program at Melbourne IVF; the largest of its kind in Australia. The FPS was the first dedicated service for fertility preservation in Australia and continues to lead clinical programs and research in this area of medicine.
Franca is also the secretary for the Medical Preservation of Fertility Special Interest Group. This group comprises national and international experts in the field of fertility preservation and which was launched in 2009. This initiative has been supported and endorsed by the Board of the Fertility Society of Australia.