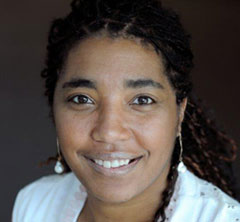 Dr. Antoinette Anazodo
Dr Antoinette Anazodo trained in Paediatric and Adolescent Oncology in the United Kingdom and completed her training with a clinical fellowship at the Kids Cancer Centre at The Sydney Children's Hospital, Randwick (SCH). During her training and fellowship Antoinette completed a postgraduate diploma in Adolescent Oncology and has developed a comprehensive understanding of the issues specific to Adolescent and Young Adult (AYA) patients including best practice for individual cancer types. Antoinette has an interest in sexual health, sexual dysfunction and fertility in cancer patient's. As CIA Antoinette brings together a very strong team who are committed to making a difference in the development of biological, medical and psychological studies that will advance our knowledge and care of patient's sexual health and fertility potential following successful cancer treatment.
Antoinette was appointed as the Director of the Sydney Youth Cancer Service at Sydney Children's Hospital and Prince of Wales Hospital in October 2010. Her committment over this time has been to develop a service that allows all AYA patients to receive age appropriate and tumour specific medical treatment and psychosocial care. Antoinette's appointment across both paediatric and adult campus has provided opportunities for clinical and research collaboration and the development of the first Youth Cancer Unit in NSW. Antoinette is a member of the national COSA AYA Cancer Steering Group, Chair of the NSW and ACT AYA Steering Group, member of the CanTeen Steering Group and the CanTeen Research Group and a member of the Fertility Society of Australia Fertility Preservation Special Interest Group.