WELCOME TO FUTuRE FERTILITY
Improvements in the diagnosis and treatment of cancer has led to significant improvements in survival rates. The loss of reproductive or sexual function following diagnosis of cancer or a serious but non-malignant disease, or its treatment, is a significant survivorship consideration for many patients. The use of treatments that can affect the future fertility of men, women, and children and the late effect consequences of infertility and sexual dysfunction can have a lasting impact on a patient's physical and psychological well- being.
The term 'oncofertility' describes a subspecialty of medicine that focuses on the reproductive concerns of cancer patients, who may face infertility as a result of their treatment. As survival rates improve, there is an expectation by patients and health care professionals that efforts be made to preserve the reproductive health potential of patients who receive gonadotoxic treatment whenever possible.
We have established an oncofertility service which includes access to the 'Fertility & Research Centre' led by Prof William Ledger. This clinic is based at the Royal Women's Hospital in Sydney and open from Monday to Saturday. This is the first dedicated oncofertility centre in Australia and is the only fertility centre to combine basic and clinical research with comprehensive fertility preservation, assisted reproduction treatment and psychosocial support in the public hospital setting.
The Fertility & Research Centre provides rapid access to oncofertility consultations and fertility preservation options for paediatric, adolescent and adult cancer patients. This multidisciplinary service provides a centre of clinical and research excellence which ensures that cancer patients in NSW benefit from oncofertility care, care coordination and practical and psychosocial oncofertility support at diagnosis and through treatment into survivorship. A NSW referral service for cancer patients or medical patients whose fertility or sexual health may be affected by medical or surgical treatment has been established (Link to Patient Registration Form)
We have an innovative research program, which brings oncologists, fertility specialists and scientists together into one team. These include researchers in the Oocyte and Ovarian Biology Laboratories at The University of New South Wales led by Prof Robert Gilchrist, researchers in The Laboratory for Ageing Research at The University of New South Wales led by Dr Lindsay Wu and clinicians in both the Kids Cancer Centre at Sydney Children's Hospital and the Nelune Comprehensive Cancer Centre at Prince of Wales Hospital led by Dr. Anazodo. This collaboration has allowed us to develop a number of pre-clinical and clinical studies (Research page) which cover different aspects of care (biological, medical and psychological) as well as allowing us to collaborate with national and international investigators.
We hope this service and collaboration will improve access to fertility knowledge consultation procedures and support as well as reducing the risk of future infertility and success of assisted reproduction treatment.
National Oncofertility Summit
The 2nd Oncofertility Summit is being held at The Royal Children's Hospital on the 4th December 2019.Please click on the link below to book tickets: https://www.eventbrite.com.au/e/the-second-national-oncofertility-summit-2019-tickets-65070794498
UPDATE: NSW Health Awards
We would like to congratulate Dr Antoinette Anazodo, Lead Clinician and Director of the Sydney Youth Cancer Service based at Prince of Wales Hospital. Dr Anazodo's dedication and tireless efforts toward cancer care and fertility preservation have been recognised with three NSW Health awards.
2018 Premier's Awards – Improving Government Services
Individual Winner. Dr Anazodo was awarded Individual Clinician of the year for her outstanding contributions to innovation, initiatives and programs as part of NSW Health. This includes the development of oncofertility care for paediatric and adult cancer patients, from diagnosis into survivorship.
2018 Premier's Awards for Outstanding Cancer Research – Rising Star PhD Candidate Award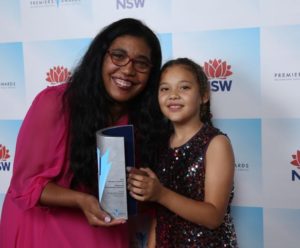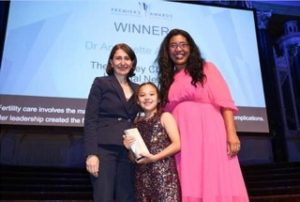 2018 NSW Health People's Choice Award – 'Eggspectations'
Dr Anazodo and the Sydney Children's Hospital team developed the first public oncofertility service   driven by consumer targeted initiatives. Oncofertility care involves discussing fertility risk and fertility   preservation, as well as the management of medical and psychological reproductive complications. The   change in practice has allowed all adolescent and young adult cancer patients in NSW equitable and timely access to oncofertility care. The project titled 'Eggspectation' was awarded the NSW Health People's Choice Award.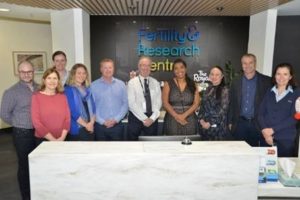 2018 Churchill Fellowship Congratulations to Dr Michael Bertoldo on being awarded the Dr Dorothea Sandars Churchill Fellowship to develop cutting-edge oncofertility options for Australian  females – USA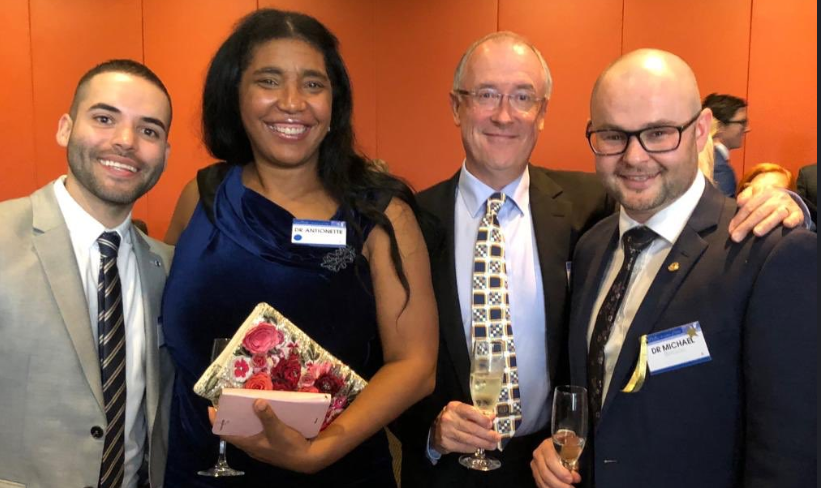 https://www.sbs.com.au/news/cancer-can-affect-fertility-but-a-lot-of-young-australians-aren-t-being-told
Seven news interview with Professor Bill Ledger in relation to the Fertility Research Centre NSW Health Minister Brad Hazzard opens the new Fertility Research Centre which will offer free reproductive consultations, fertility preservation and IVF services for cancer patients https://mms.tveyes.com/ProgramSummaryView.aspx?ProgramSummaryItemID=664fe559-b047-4c44-9be5-3268d862973b